July 2016, Feel free to join my website chat. Our conversation is on YouTube in comment section of this video

My motorbike.
Kawasaki big ninja, ZZR-1100 (ZX-11) is also known as "big Zed" or "Eleven".
I fell in love with this motorcycle a long time ago, when I still was in school and "Eleven" was king. (Eleven kept the title of fastest world production motorcycle for long 7 years)
I was only able to afford it many years later when big Zed became available on a second hand market.
I bought it as a badly beat-up motorcycle that already had given the best years of it's life in Western Europe. It was brought to Ukraine to give up the ghost.

3rd rod thing
She had been badly abused by previous owners and, as a result of oil starvation, the 3rd rod had started to fail. I didn't know about it, and only learned when engine exploded on a highway. With splashes of oil and green liquid, a con-rod broke through the engine block and stretched out, as if wanting to give me a good bye handshake.
Luckily, this happened on a slow section of road where my guardian angel is usually able to catch up with me.
This is common with older motors of this design. Symptoms of imminent failure are power loss, strange internal knocks, and flecks of metal in the oil.
Nothing left to do but sell this motor to scrap metal people. We do not have a single Kawasaki dealership in my country and there is no way to get parts or anything for these bikes here..
I bought a new motor in parts on the Internet and a motor guy here put it in one piece. It is a stock engine but with modified j-i tubes. Hopefully this mod shall improve circulation of oil and prevent 3rd rod problem in the future.
I asked a mechanic to short gear bike and I went for a 16-tooth front sprocket. It gave crazy acceleration but stole 15kms/h from the top speed. I never ride at top speed anyway because we do not have good roads here.
Bike was lowered 4cms (about 1 1/2 inches) with dog bones from a ZZR600. For me it is a very good improvement, because my own weight is only 52kgs and now it is easier to balance the motorcycle and move it around. Ladies who ride heavy motorcycles often want to lower them and this is the way to go. Picture shows what this part looks like.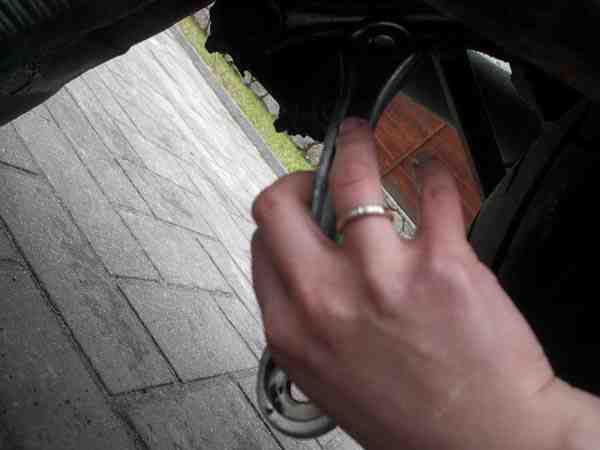 Rebuilding
Bike received two 3-pot calipers on front from Suzi GSX-1000. Picture shows that they go straight on and don't need any mods. I also changed brake lines to steel braided ones on both wheels and now I can aggressively stop this bike with only two fingers. Braking power is awesome.
Some needless stuff like motor sound deadening and emission system has been removed. This is my weight losing project. I've also installed lighter battery from Suzi hyabusa and did a lot of small changes.
Previous owner had installed some fancy heli-bars but I went back to C model handle bars, along with new Corbin seat and Mikuni foot pegs. This changed my riding position to a more sporty one.
Bike got a shiny black ZX9C rear wheel which is 4 kgs lighter than stock and an ali sprocket that saved me another 1 kg of weight. ZX9 wheel needed some machining before it would fit on Eleven.
Front wheel has been installed from Kawi Ninja 600cc and this one is 3 kg (about 6 1/2 pounds) lighter. This is one of the best improvement I have ever made on this bike. It now takes corners faster and the maneuverability is excellent. It needed some mods to the speedometer drive before it would fit on my bike.
Another good mod is progressive fork springs. There are couple of things which I did without help of mechanic, I installed kn filter and I dynojetted carbs in winter on my kitchen. I went with 155 main jets.
The "Double bubble" windscreen improved both aerodynamics and wind protection. With a new ZX-7r double headlight, this old predator got a second eye and now gives off much more light.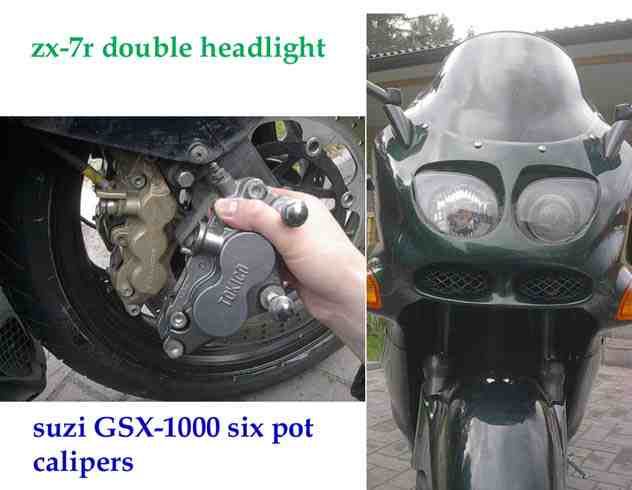 What have I gained with this tuning? First, the machine got a second life. We do not have a dyno stand here, but I have one primary installed in me and it says my bike must be producing 150 hp at the crankshaft (about 131 bhp on rear wheel). For desert will come the sweetest part of this tuning pie: a full-race exhaust system. I am still saving up for it. May be next season. I hope the info on this page will be useful for fellow ZZR and ZX riders.
April/16/2004
Many improvements were made on this bike during the 2004-2005 season, "muzzy" racing pipe has been installed, "hagon" shock, several other small mods, I reduced the weight of the bike to the point when no much was left to be done, if only to lose some weight of my own...
I tried drag racing, but even with all those mods I couldn't catch up with newer 1000cc motorcycles. All newer litre-bikes are 40 kg lighter with 170-180 hp. Even installing big bore cylinder kit on "Eleven" would only bring me equal to the newer bikes and only with turbocharging I could ever really kill them.
However, in my part of the world most mechanics are self-taught and work out of their basements. None of the locals would have any idea of how a turbo charger works. It is hard to find mechanic who does not drink. Sometimes, when they repair your engine they leave tools inside. Once while adjusting valve clearance on his car, my neighbour discovered a rotting cucumber under the valve cover. We were amazed. There is no other way for a vegetable to get inside an engine, unless it was bolted down in there by some drunken mechanic. Perhaps it was a misplaced snack - but better than leaving a beer bottle in compression chamber!
I lost two engines with our mechanics. First they forgot to fix balancer shaft on my 250cc Suzuki bike several years ago and then didn't fill the other bike with sufficient amount of oil. There is no way our backyard mechanics could reliably turbocharge any bike - they can only cucumbercharge it.
March/19/2005
Zed is dead...
Spring 2005, The same familiar knocks heard in engine and I knew it was third rod again. Perhaps, everything has it's life time and life time of my bike is over.
Previous oil pan mods didn't help to prevent oil starvation problem.
This motor is not worth rebuilding and definitely is not worth installing expensive big bore cylinders. I wish, I wouldn't short gear it, nothing kill the motorbike faster then a cheap 10 dollars tuning.
I don't know, if I shall rise Lazarus from dead for a second time. I'd love to see this bike on road, but rebuilding would be a financial burden for me now.
May be some day it will be repaired. Old ZED now sleeps, disemboweled, in the section of garage where I keep broken motorcycles that I rode in my lifetime.
September/1/2005
INTERVIEW TO BIKERNET JANUARY 2006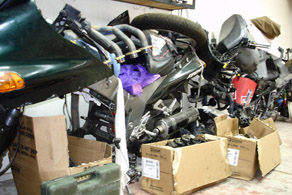 I am still thinking about rebuilding my ZZR. I heard D series engines produced in 1998-2001 already free from oil starvation problem, I also heard on Internet forums that zzr-1200 motor can be installed on my bike. May be in the future I will consider this option, I want to hear from someone who has tried to install it and who knows for sure it is going to work. I don't want to be first who will find it don't.
April,7,2006
Good things for those who wait and Big Zed have been sitting in boxes for long seven years waiting for master who one day would come and turn this pile of miserably looking scrap metal rubbish into fine piece of machinery it once was..
Click Here
for synopsis of this project photographed and written by Ross Birch who brought this bike back to life and to whom we greateful from bottom of our hearts for his great work.
DECEMBER 2012